Flags Of All Nations
Regular price
Sale price
$107.00
Unit price
per
Sale
Sold out
Eureka Flag - This flag dates back to the Eureka Rebellion in 1854 in Ballarat, located in Victoria, Australia. The design consists of a dark blue field with a horizontal and vertical white stripe (cross) through the middle. There are 5 stars, with 8 points on each, representing the Crux Australis constellation.
The flag was first hoisted on November 24 1854, and then was flown for the first official (recorded) occasion on Bakery Hill as a symbol of resistance of the gold minors during the Eureka Stockade rebellion in 1854.
Our World flags are finished with a loop at the top and bottom of the flag to be used with clips to attach to the rope and run up a flag pole. Clips are included with the flag for your convenience.
The flags come in a range of sizes for you to choose from, select your size from the drop down menu.
We can make flags to your specifications such as a custom design or vertical sleeve finish, please contact us for a quote.
Custom Options

We can make flags to your specifications including custom designs, sizes, or finishes. Contact us for a quote.
Materials

Printed flags are made from knitted polyester, a light fabric which flies well in light winds.

Fully Sewn flags are made from woven polyester (also known as flag bunting), which is thicker and considered more durable than knitted polyester.

For more detail, visit our Flag Materials page.
Flag Care

To get the most out of your flag, allow it to fly freely and avoid flying it in stormy or windy weather. You can launder your flag to keep it looking fresh. For more detail, visit our Flag Care page.
Repairs

Unattended damage can quickly accelerate the deterioration of a flag. If your flag becomes frayed or damaged, we can help you decide whether to repair or replace it. Contact us for professional feedback
Recycling and Disposal

When it's time for a replacement, we can recycle your old flags and banners. Learn more here.

If you'd prefer to dispose of your old flag at home, national flag protocol advises the flag should be destroyed privately and in a dignified way, such as being cut into small unrecognisable pieces and disposed of with household rubbish.
View full details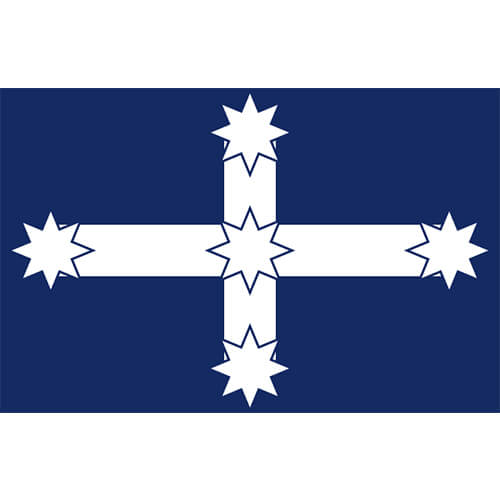 Shop with Confidence
Ongoing Service

Contact us with any concerns and we will be happy to assist